What Happens if You Don't Receive Whiplash Treatment in Sandy Springs?
What Happens if You Don't Receive Whiplash Treatment in Sandy Springs?
Written By Levinson Chiropractic & Vax-D Therapy on January 16, 2020
---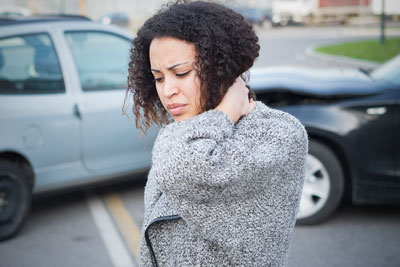 Georgia isn't a friendly state for drivers and Sandy Springs' traffic congestion doesn't help.
Every year, over 130 thousand people are injured on Georgia's roads, with over 23 thousand suffering serious injuries.
Many people don't realize that even if you "feel fine" after an accident, that doesn't mean you haven't sustained an injury. Comprehensive post-accident care and whiplash treatment in Sandy Springs are critical to avoiding chronic pain.
Don't Neglect Post-Accident Treatment
In many cases, whiplash symptoms are extremely subtle. You may even pop a Motrin and write them off as general bumps and bruises after a fender bender. Keep an eye out for:
Pain and stiffness – especially with neck movement

Headaches that typically start at the base of your skull

Tingling or numbness in your arms or hands

Sore or tender shoulders, neck, or upper back muscles
Even if you don't notice any of these symptoms, you should still see a chiropractor for a proactive evaluation. Why? You don't want to be subject to complications like:
Chronic neck pain:

Nearly half

of all patients with chronic neck pain can trace the source back to a motor vehicle accident.

Loss of mobility:

Micro Injuries and tears can shock your muscles, tendons, and soft tissues, leading to chronic stiffness.

Disc degeneration:

Untreated disc injury can cause vertebrae to break down and lose their cushioning.

Vertigo
Innovative Whiplash Treatment in Sandy Springs
Dr. Helene Levinson has over 30 years of experience treating patients in Sandy Springs communities for all types of auto injuries.
In many cases, whiplash and auto injuries are so small that x-rays can't pick them up. That's why gentle proactive treatment is critical to avoiding long-term problems. Depending on your specific injury, Dr. Levinson may suggest chiropractic adjustments, massage therapy, home stretches, and spinal decompression.
Don't wait for symptoms to appear. Schedule an appointment at Levinson Chiropractic & VAX-D Therapy today or call 404-257-0404.

Posted In: Auto Injury