Spinal Decompression in Sandy Springs - What Is the VAX-D Table?
Spinal Decompression in Sandy Springs - What Is the VAX-D Table?
Written By Levinson Chiropractic & Vax-D Therapy on December 28, 2020
---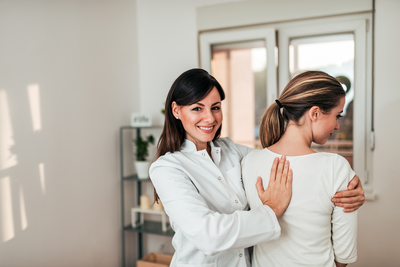 One of the main causes of back and neck pain is nerve compression.
Whether you have an irritating pinched nerve or a debilitating herniated disc, you need to relieve the pressure. Failing to do so can lead to long-term damage, which can lead to a lifetime of pain.
Thankfully, Dr. Levinson is up to date on the latest and greatest treatments, techniques, and technology related to spinal decompression. Today, you'll learn more about the VAX-D Spinal Decompression Table.
What Is the VAX-D Spinal Decompression Table and How Does It Work?
VAX-D, or Vertebral Axial Decompression, is an FDA-approved tool for spinal decompression therapy. The table is made up of two halves. You'll lie face-down on the table, your body supported by the section that's fixed in place.
A harness is placed gently around your hips and is then attached to the moveable end of the table. You'll hold onto handles near your head for support.
The table is computerized, so your therapist will operate a consul nearby and determine how much force is applied to the table.
The lower half of the table moves away, creating pressure on the harness. You'll feel a slow, gentle pull. After about a minute, the tension will slack, and you'll relax for about 30 seconds before the table starts to pull away again. Decompression therapy lasts for about 30 minutes.
Why Spinal Decompression Is an Important Part of Chiropractic Care
Several factors can cause nerve compression, including:
Spinal misalignment
Herniated discs
Injury
Stress from repetitive motions
Arthritis
Obesity
Spinal decompression treatment is a safe, painless way to get relief. Many patients notice reduced pain almost immediately and long-term relief after they've completed their recommended treatment program.
Your Sandy Springs Chiropractor Has Your Best Interests at Heart
The team at Levinson Chiropractic wants to help you get out of pain fast. Dr. Helene Levinson is so committed to helping her patients that she's spent her 30-year career furthering her education.
In addition to her chiropractic licensure, she's also certified in therapeutic modalities, VAX-D spinal decompression therapy, and physical therapy. Dr. Levinson will put her knowledge and experience to good use so you can be pain-free as quickly as possible.
Do you have a pinched nerve or painful herniated discs? We can help you find relief. Call our office at 404-257-0404 to schedule your consultation with Dr. Levinson.

Posted In: Chiropractic Spinal Decompression