Neck Pain Treatment at Your Desk? How to Prevent Pain at Work
Neck Pain Treatment at Your Desk? How to Prevent Pain at Work
Written By Levinson Chiropractic & Vax-D Therapy on June 14, 2019
---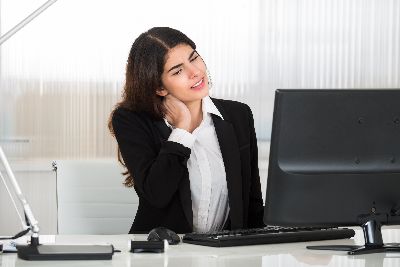 It isn't uncommon to feel muscle soreness in your neck after a long day at work.
Thankfully, there are steps you can take to prevent neck pain, even while you're sitting at your work desk. Add to that receiving chiropractic neck pain treatment in the and Sandy Springs area and you'll start to feel better in no time.
How to Prevent (or Reduce) Neck Pain While Sitting at Your Computer
Can you really treat your neck pain at work? Absolutely!
Improve Your Posture
Poor posture puts stress on the muscles, tendons, and ligaments of your neck. Do your best to practice good posture throughout the day, even while you're at your desk.
Practice Good Ergonomics
One of the main causes of neck pain is poor ergonomics, which can include:
Not having your seat at the right height
Not using an ergonomic keyboard
Having your computer screen too high, low, close, or far away.
Make improvements in these areas and you'll notice a difference in how your body feels.
Stand and Walk Around
Take regular breaks to walk around and stretch your muscles, as often as every half hour. You might also consider investing in a standing desk. You can buy these new, used, or refurbish one yourself to save on costs.
Neck Pain Treatment: How Your Sandy Springs Chiropractor Can Help
What if you try the tips mentioned above and you're still experiencing neck pain? If that's the case, you likely need to receive chiropractic neck pain treatment in the Sandy Springs area.
Your chiropractor can determine whether you're simply out of alignment, or if you're experiencing muscle tension that requires massage therapy or spinal decompression. Your chiropractor will also be able to recommend stretches and ergonomic adjustments that will contribute to less pain.
Do you suffer from neck pain and/or headaches after a day spent working at your desk? Contact us at (404) 257-0404 to schedule an evaluation. Our treatment plan will help you enjoy more productive, pain-free days at work.

Posted In: Neck Pain Chiropractic