Natural Neck Pain Treatment With Chiropractic Care
Natural Neck Pain Treatment With Chiropractic Care
Written By Levinson Chiropractic & Vax-D Therapy on April 22, 2022
---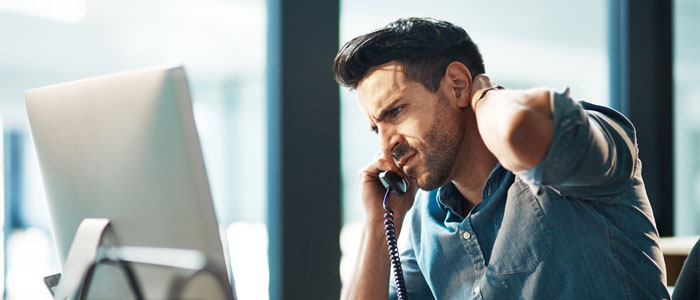 Dealing with neck pain can put a serious damper on your day, and neck pain can cause stress and irritability. Not being able to move your head freely, or wincing whenever you make certain movements, shouldn't be your normal life. Thankfully, chiropractic care is extremely effective at treating neck pain. Levinson Chiropractic in Atlanta helps patients put their pain behind them and get back to doing the things they love.
What Causes Neck Pain?
Neck pain may stem from a number of causes. Many patients who visit our Atlanta chiropractic office have been in an auto accident. In other cases, sports-related injuries can cause chronic neck pain. Whatever the cause, it is important to seek treatment before your condition becomes chronic. Pain does not always get better on its own, and quality chiropractic care can greatly reduce your recovery time.
Non-Invasive, Natural Neck Pain Treatment
Your first visit to Levinson Chiropractic will involve a thorough examination of your condition. We will test your range of motion and ask you questions about your lifestyle. This helps us determine the cause of your neck pain, which will help us create a treatment plan for you.
Our chiropractors treat neck pain with a series of adjustments, massage therapy and other therapy modalities as needed. All of these therapies work to relieve pressure from the nerves in your neck. Additionally, they help the discs in your spine work together and relax muscle tissue. After just a few visits, you will start to notice your condition beginning to improve.
The team at Levinson Chiropractic works hard to ensure you are comfortable and at ease in our office. We highly recommend starting chiropractic care to treat your neck pain, as it is non-invasive and natural.
Choose Levinson Chiropractic in Atlanta
The road to a pain-free life starts with treatment. Whether your neck pain is the result of an injury or is an issue you've struggled with for years, chiropractic care can help. Dr. Helene Levinson has more than 30 years of experience helping Atlanta patients eliminate their pain. We are ready to do the same for you.
To schedule an appointment for neck pain treatment, contact Levinson Chiropractic at (404) 257-0404.

Posted In: Neck Pain Chiropractic Massage Therapy