Natural Disc Pain Treatment with Spinal Decompression
Natural Disc Pain Treatment with Spinal Decompression
Written By Levinson Chiropractic & Vax-D Therapy on October 19, 2021
---
Treat Disc Problems with Chiropractic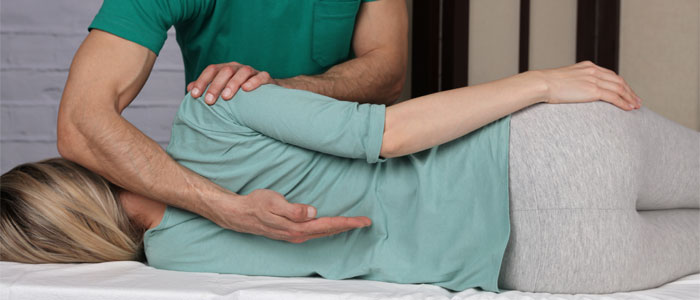 You might often hear someone say that they suffer from "slipped discs." However, this is a popular misnomer, as it is not possible for the spinal discs to slip out of place.
Spinal discs are rubbery cushions in the lower back and are essential to the operation of the spine and the rest of the body. It is likely that this patient is suffering from herniated or bulging discs. Either way, the pain associated with these conditions is often quite significant, to the point of being unbearable. Some choose to treat back pain caused by bulging or herniated discs with medication or surgical procedures. However, there is a safe and natural way to achieve pain relief: chiropractic.
At Levinson Chiropractic in Sandy Springs, Georgia, Dr. Levinson can help you get rid of back pain caused by bulging or herniated discs through a number of methods, chief among them spinal decompression. If you are looking for disc pain treatment, request an appointment with us today.
Spinal Decompression with the VAX-D Table
One of the most natural ways to treat disc pain is to undergo spinal decompression on a VAX-D Therapeutic Table. The VAX-D Table – or Vertebral Axial Decompression Table – is an FDA-approved device that is designed to treat and eliminate back pain caused by herniated or degenerated discs.
The VAX-D Table works by applying force to the intradiscal spaces of the patient's lower spine. This force is applied when the lower half of the table stretches away from the patient's body while the patient holds on to handgrips on the fixed, upper section. Treatment with a VAX-D table is easy and only lasts for about 30 minutes.
Because it is non-surgical, it carries none of the risks that are normally associated with surgery, such as anesthesia. There are also no chances of the side effects commonly associated with medications. VAX-D is a natural, safe, and convenient way to undergo spinal decompression and get rid of your back pain from bulging or herniated discs.
Get Treated at Levinson Chiropractic
Dr. Levinson is trained to operate the VAX-D Table and help you to safely get the results you desire. She has been helping patients in Atlanta and Sandy Springs get rid of pain for more than 30 years, and she would love to help get you pain-free – fast.
Schedule an Appointment Online
You can schedule an appointment online to meet with Dr. Levinson, or you can call us to get help setting up an appointment. Our friendly staff is ready to help you make an appointment so you can meet with our chiropractor and finally get rid of your back pain for good. Call today!

Posted In: Chiropractic Spinal Decompression Low Back Pain Disc Pain Treatment Back Pain Treatment