How to Maintain Good Ergonomics While Working from Home
How to Maintain Good Ergonomics While Working from Home
Written By Levinson Chiropractic & Vax-D Therapy on November 27, 2020
---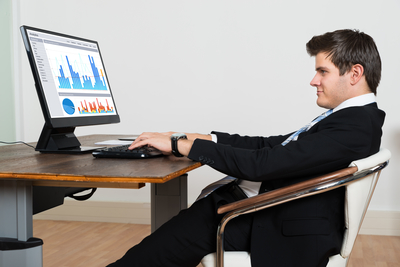 Practicing good ergonomics will help you reduce muscle soreness after a long day at work.
It will also help reduce your risk of injury, increase your energy, and promote optimal health.
You might've had some guidance regarding ergonomics at the office, but what if you're working from home?
Since the pandemic, more people are working from a makeshift home office that isn't ideal for posture and ergonomics. What can you do about that?
Working from Home – How to Create an Ergonomic Workspace
Due to the pandemic, we don't know how long people will be working from home. Some companies are even suggesting that their employees start working from home even after the pandemic. That's a lot of time spent in front of a computer, and if you don't have a comfortable set-up, you're going to end up in a lot of pain.
While working at your desk, the main goal is to keep a neutral posture. Here are some areas to consider making adjustments:
Your Computer: Raise your computer screen so that it's eye-level. Avoid putting it in front of a window, as this can lead to eye strain.
Your Chair: Sitting on a dining room chair or folding chair is not a good long-term option. Invest in a comfortable office chair that supports your back and allows you to adjust the angle and height.
A Footrest: Your elbows and knees should be bent at a 90-degree angle. If your desk is tall, but you aren't, you may need to get a footrest to help you maintain a neutral posture.
Feeling Sore and Exhausted? See Your Sandy Springs Chiropractor
Dr. Helene Levinson has helped many people in her community overcome pain from poor posture and ergonomic environments. She can help you, too, in a couple of ways.
First, she'll create a chiropractic treatment plan that will ensure you're in proper alignment and that your muscles are relaxed. Then, she'll recommend changes to implement when working from home. Changes could include posture recommendations and core strengthening exercises.
With help from your Sandy Springs chiropractor, you'll experience less pain and more energy throughout your workday.
Do you struggle with pain from poor posture? We can help! Contact our team at 404-257-0404 to schedule an appointment.

Posted In: Chiropractic Workplace Ergonomics