How Chiropractic Can Help Your New Year's Resolution
How Chiropractic Can Help Your New Year's Resolution
Written By Levinson Chiropractic & Vax-D Therapy on January 1, 2019
---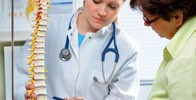 Perhaps one of your New Year's resolutions is to have a healthier lifestyle.
Our general wellness is essential to our quality of life. If it's compromised in any way, then it can begin to interfere with both our work and home life.
With chiropractic, you can stay on top of your wellness in the New Year and stick to that New Year's resolution. Let's talk about the surprising benefits of chiropractic care.
Chiropractic Care: The Surprising Health Benefits
Chiropractors focus on particular areas of the body like your neck and back to help prevent and treat a number of different health issues.
People go to a chiropractor for a broad range of reasons, and the treatment and techniques for each reason vary as well. Let's take a look at how a chiropractor can help get your health on track in 2019:
Athletic Performance
If you're thinking about getting back in shape, then you'll want to visit a chiropractor while you do so. Many professional athletes get regular check-ups and adjustments that help to improve their level of performance.
Managing Pain
Visiting your chiropractor can help improve pain management and treat any chronic conditions you may have. Adjustments also help to prevent conditions and injuries as well. This can give your wellness a great kick start in the New Year.
Blood Pressure
If your doctor has told you to get on top of your blood pressure, there's no time like the present. Different methods of chiropractic care are excellent for relieving hypertension.
Improved Sleep
You may be determined to get better sleep next year. Neck and back issues can have a significant impact on your quality of sleep. Chiropractic adjustments provide tension relief, which can help to increase how much sleep you get.
---
Recruit a Chiropractor in the New Year
If you want help improving your wellness and getting into the swing of a healthy lifestyle, talk to your chiropractor.
Levinson Chiropractic is a chiropractic clinic located in Sandy Springs. Dr. Helene Levinson consults with patients every day about their general wellness and how chiropractic can benefit.
Talk to Levinson Chiropractic today by calling 404 257-0404 and give your New Year's resolution a head start.

Posted In: Chiropractic Wellness Care Pain Relief Insomnia Blood Pressure