Chronic Neck Pain? Chiropractic Treatment Can Help
Chronic Neck Pain? Chiropractic Treatment Can Help
Written By Levinson Chiropractic & Vax-D Therapy on July 27, 2020
---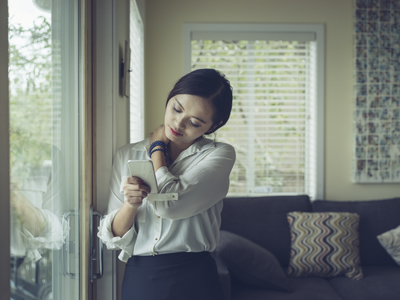 Are you experiencing neck pain regularly? Have you tried going to your doctor, only to be offered addictive pain medications as a treatment? If so, you're not alone. Around 50 to 70% of U.S. residents experience neck pain at some point in their lives.
If you're one of the many Americans suffering from neck pain, chiropractic treatment might be exactly what you need. So, how do chiropractors approach the treatment of neck pain, and what is the efficacy of chiropractic neck pain treatment?
Chiropractic Neck Pain Treatment: What to Expect
When you visit a chiropractor for neck pain treatment, the doctor will conduct exams to determine the cause of your pain. He or she will ask questions assessing your current symptoms and current and past treatments. In some cases, the doctor might order tests such as x-rays to help diagnose your condition. Chiropractic doctors do not use drugs or surgery as treatment, so if surgery is necessary for your specific condition, your chiropractor might refer you to the appropriate physician for treatment.
Neck Adjustment: What Is It?
Once your chiropractor has assessed and diagnosed your condition, they will likely perform a neck adjustment. This is a procedure applied to your neck joints by hand. It works to improve the mobility of the spine and restore range of motion. Also, it improves the movement of the adjoining muscles. After a neck adjustment, patients will notice a marked improvement in the ability to turn and tilt the head. Additionally, patients will notice a reduction of pain, soreness, and stiffness.
The Research Says It Works
Research indicates that chiropractic treatment of neck pain is very effective. For example, a 2009 study published in the Journal of Chiropractic Medicine found that neck pain patients improved greatly while under chiropractic care. In fact, 96% of the respondents in the study reported that they were "very satisfied" with the chiropractic care they received.
Another study, published in The Annals of Internal Medicine, found that a combination of chiropractic care and simple at-home exercises were more effective for patients than taking pain medications.
All the research shows that chiropractic care is incredibly effective in the treatment of neck pain.
Chiropractic Care Can Help
Conventional medicine, though necessary in many cases, often does not address the root cause of most patients' issues. If you are experiencing chronic and bothersome neck pain, chiropractic treatment will undoubtedly provide you with the relief you are looking for.
If you're struggling with chronic neck pain, expert chiropractic treatment is available. Contact Levinson Chiropractic today for expert chiropractic treatment and advice.
x

Posted In: Neck Pain Chiropractic Posture Pain Relief