Chiropractic Care for Low Back Pain Treatment
Chiropractic Care for Low Back Pain Treatment
Written By Levinson Chiropractic & Vax-D Therapy on August 27, 2020
---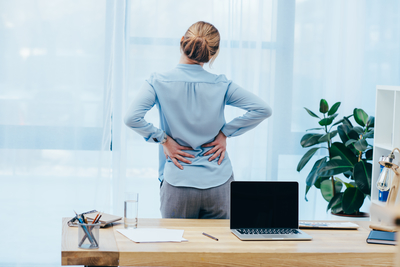 If you suffer from low back pain, you're not alone. It is estimated that 80 percent of people will experience low back pain at some point during their lives. Doctors mainly treat low back pain with pain medications, but the causes of low back pain are seldom addressed in standard care.
Many doctors also recommend chiropractic care for low back pain treatment. So, you may wonder: what does chiropractic care as part of a low back pain treatment plan entail, and is this type of care effective?
Chiropractic Care as Part of Low Back Pain Treatment
When you visit a chiropractor for low back pain treatment, first the chiropractor will take your medical history, conduct a physical examination, and possibly order lab tests or diagnostic imaging to assess whether chiropractic treatment is the best option for your condition.
A typical treatment plan will involve spinal manipulation, as well as nutritional counseling and exercise. Spinal manipulation is a technique in which practitioners use either their hands or a device to apply a controlled force to a joint of your spine.
According to a 2014 NCCIH-funded study of 400 people with chronic low back pain, 12 sessions of spinal manipulation may be necessary to achieve the best results.
Is Chiropractic Care Safe and Effective for Low Back Pain Treatment?
Spinal manipulation, when performed by a trained and licensed practitioner, is considered safe. Common side effects of spinal manipulation include temporary muscle soreness and stiffness, and a temporary increase in pain. Serious complications are very rare.
Spinal manipulation as part of a chiropractic treatment plan is not only safe, but it's proven to be effective. A 2018 study published in JAMA Network Open followed the treatment of 750 active-duty military personnel suffering from back pain. Half of them received standard care (which included pain medications, physical therapy, and self-care) while the other half received standard care plus 12 chiropractic treatments.
After six weeks of treatment, the half assigned chiropractic care reported less pain, improved function, and higher satisfaction with their treatment. Furthermore, they reported needing less pain medication than those receiving standard care.
Consider Chiropractic Care for Low Back Pain Treatment
Suffering from low back pain is debilitating and disheartening. Chiropractic care, in conjunction with the standard care your doctor prescribes, is a viable option proved to have positive results. Consider it to get the best results from your low back pain treatment plan.
Looking for relief from low back pain? Get a tailored chiropractic treatment plan from Levinson Chiropractic. Contact us today to set up an appointment.

Posted In: Chiropractic Spinal Decompression Low Back Pain