Chiropractic Care: An Effective Neck Pain Treatment
Chiropractic Care: An Effective Neck Pain Treatment
Written By Levinson Chiropractic & Vax-D Therapy on July 23, 2021
---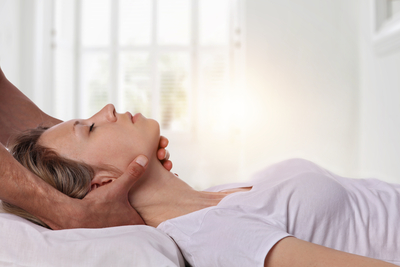 Under normal circumstances, the soft tissues and bones of your neck allow for a great deal of movement. However, if you're experiencing neck pain, you might also find that your neck has limited flexibility and range of motion. It can interfere with your daily activities and your overall quality of life. Neck pain can even prevent you from getting a good night's sleep. It's important to seek neck pain treatment promptly to prevent an acute injury from turning into a chronic problem. At Levinson Chiropractic, Dr. Helene Levinson, D.C. has extensive experience working with patients who suffer from neck pain.
Common Causes of Neck Pain
Neck pain is often accompanied by muscle spasms, muscle tightness, headache, and reduced range of motion. When you turn your head to the side, this movement may aggravate the pain. There are many common causes of neck pain, such as sports injuries, falls, and motor vehicle accidents. Often, however, patients discover that their lifestyle is to blame.
People who spend hours hunched over a desk in front of a computer or peering down at their cellphone are at a higher risk of developing neck pain due to poor posture. The spine simply wasn't made to withstand poor posture for prolonged periods. In other cases, neck pain may be the result of an improper sleeping position or rigorous exercise.
Neck Pain Treatment Options
Chiropractic care is a highly effective neck pain treatment option. Not everyone experiences the same neck issues, and so your care will begin with a thorough evaluation. Once Dr. Levinson uncovers the root causes of your neck pain, she can put together a customized treatment plan designed to relieve your symptoms quickly and prevent future occurrence of neck pain. Depending on your particular needs, your neck pain treatment options may include the following:
Heat/cold therapy: Heat/cold therapy is most effective when used shortly after the symptoms first develop.
Ultrasound: Ultrasound therapy can ease tight, painful soft tissues.
Mechanical traction: Specially designed equipment is used to slightly increase the space between the vertebrae in the neck, thereby reducing pressure and improving function.
Electrical nerve stimulation: Electrodes deliver gentle electrical impulses to interrupt pain signals.
Manual therapy: Dr. Levinson can perform spinal adjustments to correct misaligned vertebrae in the neck.
Exercise therapy: A customized program of stretches and exercises can relieve neck pain and reduce the risk of a recurrence.
With these treatment modalities, Dr. Levinson's patients enjoy rapid pain relief, as well as reduced swelling, stiffness, muscle spasms, and inflammation. Furthermore, the increased blood circulation supports faster healing.
Lifestyle Modifications to Prevent Neck Pain
In addition to delivering an effective neck pain treatment plan, Dr. Levinson can recommend lifestyle modifications that prevent a relapse. These may include the following:
Using good posture while working, standing, and sitting
Taking frequent breaks to stretch the soft tissues
Making ergonomic adjustments to your workspace
Using a speakerphone or headset for your phone
Adjusting your sleeping position to properly align your head and neck
Neck Pain Treatment in Sandy Springs
In Sandy Springs, Atlanta, and the surrounding areas, patients with neck pain can turn to Levinson Chiropractic for relief of their symptoms. Dr. Helene Levinson, D.C. has more than 30 years of experience helping her patients achieve optimum wellness using a variety of treatment modalities.
Under Dr. Helene's care, our patients enjoy faster healing, effective pain relief, and better overall quality of life. Schedule an appointment with Dr. Helene today by calling (404) 257-0404.

Posted In: Neck Pain Chiropractic